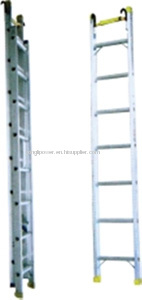 Aluminous alloy ladder
Order number

Model

Length(mm)

Shrinking length(mm)

Loading bear(kg)

Weight (kg)

11135

LGS-25

2500

--

150

5.0

11136

LGS-30

3000

--

5.5

11137

LGS-35

3500

--

6.1

11138

LGS-40

4000

--

6.6

11139

LGE-40

4000

2700

13

11140

LGE-50

5000

3700

15

11141

LGE-60

6000

3900

18

11142

LGE-70

7000

4200

20
.Features:
1.Light and handy;
2.Table-riding of D type is antiskid;
3.Antiskid belt of telegraph pole.
4.Pothook .
.Notes:
1.This ladder is conductive ;
2.Check every parts of it before operating ;
3.Don't use it on the ground wich is soft, concave-convex, inclined, or has steps.
4.Face the ladder and grasp the ladder firmly when climbing the ladder.
5.Don't spread your body overly ,avoiding leading to accidents.
6.Avoiding overload when you want to bring things climbing the ladder.
7.No lengthing the ladder arbitrarily.