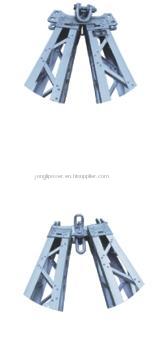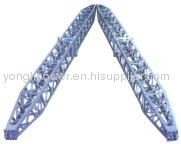 Aluminum alloy A-shape lattice gin pole
Order

number

Model

Base stroke (m)/

allowable vertical load( (kN)

Weight (kg/m)

Order

number

Model

Base stroke (m)/

allowable vertical load( (kN)

Weight (kg/m)

10174

LBR250-8

2.8/72

10.5

10193

LBR350-10

3.5/94

13.5

10175

LBR250-9

3.1/56

10194

LBR350-11

3.8/78

10176

LBR250-10

3.5/45

10195

LBR350-12

4.2/65

10177

LBR250-11

3.8/38

10196

LBR350-13

4.5/58

10178

LBR250-12

4.2/32

10197

LBR350-14

4.9/46

10179

LBR250-13

4.5/27

10198

LBR350-15

5.2/42

10180

LBR250-14

4.9/22

10199

LBR350-16

5.6/37

10181

LBR250-15

5.2/20

10200

LBR400-11A

3.8/98

14.5

10182

LBR300-8

2.8/100

11

10201

LBR400-12A

4.2/85

10183

LBR300-9

3.1/87

10202

LBR400-13A

4.5/75

10184

LBR300-10

3.5/70

10203

LBR400-14A

4.9/64

10185

LBR300-11

3.8/56

10204

LBR400-15A

5.2/56

10186

LBR300-12

4.2/47

10205

LBR400-16A

5.6/48

10187

LBR300-13

4.5/40

10206

LBR400-17A

5.9/44

10188

LBR300-14

4.9/35

10207

LBR400-18A

6.3/38

10189

LBR300-15

5.2/31

10208

LBR400-11B

3.8/147

16.5

10190

LBR300-16

5.6/26

10209

LBR400-12B

4.2/129

10191

LBR350-8

2.8/120

13.5

10210

LBR400-13B

4.5/113

10192

LBR350-9

3.1/105
.Uses: to assemble and erect the pole tower with pulling rope ,the safety factor is 2.5.
.Notes :1.three kinds of head are optional : "upending style" , "fixed style" and" upending –fixed style ". please specify when placing orders .
2. model whose postfix is "A" means it is universal and " B" means strengthened .