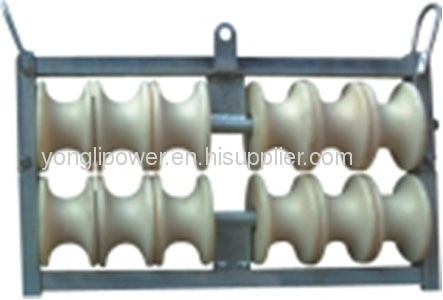 arieal 6 bundled conductor devider Cable deconcentrator pulley block
.Order number: 10566
.Model:FXQ6A
.Essential parameter:
Separation distance betwwen sheaves suited the blocks: 104mm
Material of sheaves: MC nylon
Size of sheaves: Φ150×Φ70×100mm,race of sheaves:R41mm
Appearance: 786×525×150mm
Weight: 27kg
.Uses: to spread conductors in bad weather or saparate conductors into six strands , avoiding congducors intertwining, protecting conductors , and ensuring conductors spreading smoothly.
.Features: plug in one side can be opened, and it's convenient and easy to install conductors .
.Notes: 1.two pulling ropes are used to fix the conductors deconcentrator.
2. If you need other models , please contact us.